| | |
| --- | --- |
| | |
| Laboratory Technique | Chairside Technique |
Important Product Information at Bottom of Page
3.5/4.0 Platform Regular Width

Size
Part #
Price
Qty.
3.5/4.0 KISS Abutment 1.5mm collar
ASDH35015
$95.00
Additional Abutment Screw (only compatible with Blue Sky Bio abutments), Conus 12, 3.5mm
SDH35
$19.00
Implant Level Analogs
Size
Part #
Price
Qty.

3.0 Implant Level Analog

BDH30
$32.00

3.5/4.0 Implant Level Analog

BDH35
$32.00

4.5/5.0 Implant Level Analog

BDH50
$32.00
3.0 Platform Closed Tray Impression

Size
Part #
Price
Qty.
3.0 Closed Tray Impression Transfer
MDH30
$39.00
3.5/4.0 Platform Closed Tray Impression

Size
Part #
Price
Qty.
3.5/4.0 Closed Tray Impression Transfer
MDH35
$39.00
4.5/5.0 Platform Closed Tray Impression

Size
Part #
Price
Qty.
4.5/5.0 Closed Tray Impression Transfer
MDH50
$39.00
3.5/4.0 Platform Open Tray Impression

Size
Part #
Price
Qty.
3.5/4.0 Open Tray Impression Transfer
MDH35 - OT
$58.00
Open Tray Impression Screw
(additional screw)
SMDH35L
$19.00
4.5/5.0 Platform Open Tray Impression

Size
Part #
Price
Qty.
4.5/5.0 Open Tray Impression Transfer
MDH50 - OT
$58.00
Open Tray Impression Screw
(additional screw)
SMDH50L
$19.00
whiteMetal® OPAQUER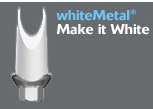 Size
Part #
Price
Qty.
whiteMetal Opaquer, 1 gram -

Temporarily Unavailable

WM1
$55.00

whiteMetal® is a light cured, resin based opaquer, with zirconia particles for titanium abutments. It masks the metal with a layer of only 25-50 microns and has an excellent bond strength of 35 MPa. whiteMetal is intended to be covered by a restoration and not designed to be left exposed.
BIO | Conus 12 implants, prosthetics and instrumentation are fully compatible with Astra Tech's OsseoSpeed™ Dental implant system.
Fixation screw included.