---
Mountless Design
Blue Sky Bio developed a patented thread design that allows easy insertion of the J-implant driver with friction fit into the implant and can be simply pulled out once the implant is in place. The Blue Sky Bio implant can be easily backed out with the J-implant driver, if necessary. Mounts from other companies engaging internal taper implants slip if the implant needs to be backed out.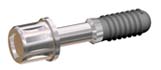 Blue Sky Bio eliminated cumbersome implant mounts, and thus eliminated the need to use a counter wrench with the second hand to remove the mount. This is especially important for posterior areas.


Note that ITI®-Straumann COC® abutments, synOcta® abutments and Lifecore® Stage-1™ abutments are compatible with Blue Sky Bio implants, but implant mounts from these companies should not be used.