| | |
| --- | --- |
| | BIO | Max Digital Mill Packs are available to customers that have purchased the TruMill X250. Receive a FREE abutment blank with the purchase of each Max NP implant at regular price. For more information on the TruMill X250 please click here. |
Important Product Information at Bottom of Page
3.0mm Ø NP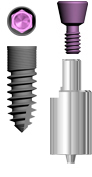 Size
Part #
Price
Qty.
BIO | Max NP Digital Mill Pack including 3.0 x 10mm implant, cover screw and free abutment blank
IJH3010DMP
$149.00
BIO | Max NP Digital Mill Pack including 3.0 x 11.5mm implant, cover screw and free abutment blank
IJH3011DMP
$149.00
BIO | Max NP Digital Mill Pack including 3.0 x 13mm implant, cover screw and free abutment blank
IJH3013DMP
$149.00
3.5mm Ø NP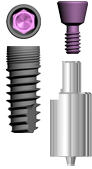 Size
Part #
Price
Qty.
BIO | Max NP Digital Mill Pack including 3.5 x 8mm implant, cover screw and free abutment blank
IJH3508DMP
$149.00
BIO | Max NP Digital Mill Pack including 3.5 x 10mm implant, cover screw and free abutment blank
IJH3510DMP
$149.00
BIO | Max NP Digital Mill Pack including 3.5 x 11.5mm implant, cover screw and free abutment blank
IJH3511DMP
$149.00
BIO | Max NP Digital Mill Pack including 3.5 x 13mm implant, cover screw and free abutment blank
IJH3513DMP
$149.00
BIO | Max NP Digital Mill Pack including 3.5 x 16mm implant, cover screw and free abutment blank
IJH3516DMP
$149.00
4.3mm Ø NP platform switched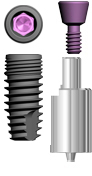 Size
Part #
Price
Qty.
BIO | Max NP Digital Mill Pack including 4.3 x 6mm implant, cover screw and free abutment blank
IJH4306DMP
$149.00
BIO | Max NP Digital Mill Pack including 4.3 x 8mm implant, cover screw and free abutment blank
IJH4308DMP
$149.00
BIO | Max NP Digital Mill Pack including 4.3 x 10mm implant, cover screw and free abutment blank
IJH4310DMP
$149.00
BIO | Max NP Digital Mill Pack including 4.3 x 11.5mm implant, cover screw and free abutment blank
IJH4311DMP
$149.00
BIO | Max NP Digital Mill Pack including 4.3 x 13mm implant, cover screw and free abutment blank
IJH4313DMP
$149.00
BIO | Max NP Digital Mill Pack including 4.3 x 16mm implant, cover screw and free abutment blank
IJH4316DMP
$149.00
5.0mm Ø NP platform switched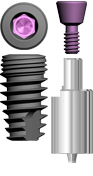 Size
Part #
Price
Qty.
BIO | Max NP Digital Mill Pack including 5.0 x 6mm implant, cover screw and free abutment blank
IJH5006DMP
$149.00
BIO | Max NP Digital Mill Pack including 5.0 x 8mm implant, cover screw and free abutment blank
IJH5008DMP
$149.00
BIO | Max NP Digital Mill Pack including 5.0 x 10mm implant, cover screw and free abutment blank
IJH5010DMP
$149.00
BIO | Max NP Digital Mill Pack including 5.0 x 11.5mm implant, cover screw and free abutment blank
IJH5011DMP
$149.00
BIO | Max NP Digital Mill Pack including 5.0 x 13mm implant, cover screw and free abutment blank
IJH5013DMP
$149.00
BIO | Max NP Digital Mill Pack including 5.0 x 16mm implant, cover screw and free abutment blank
IJH5016DMP
$149.00
6.0mm Ø NP platform switched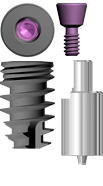 Size
Part #
Price
Qty.
BIO | Max NP Digital Mill Pack including 6.0 x 6mm implant, cover screw and free abutment blank
IJH6006DMP
$149.00
BIO | Max NP Digital Mill Pack including 6.0 x 8mm implant, cover screw and free abutment blank
IJH6008DMP
$149.00
BIO | Max NP Digital Mill Pack including 6.0 x 10mm implant, cover screw and free abutment blank
IJH6010DMP
$149.00
BIO | Max NP Digital Mill Pack including 6.0 x 11.5mm implant, cover screw and free abutment blank
IJH6011DMP
$149.00
7.0mm Ø NP platform switched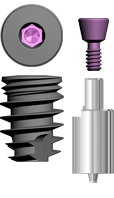 Size
Part #
Price
Qty.
BIO | Max NP Digital Mill Pack including 7.0 x 6mm implant, cover screw and free abutment blank
IJH7006DMP
$149.00
BIO | Max NP Digital Mill Pack including 7.0 x 8mm implant, cover screw and free abutment blank
IJH7008DMP
$149.00
BIO | Max NP Digital Mill Pack including 7.0 x 10mm implant, cover screw and free abutment blank
IJH7010DMP
$149.00
BIO | Max NP Digital Mill Pack including 7.0 x 11.5mm implant, cover screw and free abutment blank
IJH7011DMP
$149.00
BIO | Max NP Analog and Impression Coping
Size
Part #
Price
Qty.

Implant Level Analog, Scannable

BIJH
$32.00

Closed Tray Impression Transfer, Scannable

MIJH
$39.00
BIO | Max Digital Abutment
Size
Part #
Price
Qty.

Standard SKY-Base Abutment, 1mm collar, NP
(includes fixation screw

ABJHNP10
$89.00

Digital Abutment 1.8mm collar, Narrow Platform
(includes abutment screw)

ABJHNP18
$89.00

Digital Abutment Mini for abutment and crowns for zirconia and emax
(includes fixation screw)

ABJHNPMI
$89.00

Titanium Digital Abutment - non engaging, Narrow Platform (includes abutment screw), for full arch w/ multi-units

ABJHNPN
$89.00

Additional Abutment Screw (only compatible with Blue Sky Bio abutments), BIO | Max Narrow Platform

SRJH
$19.00
BIO | Max Angled Digital Abutment
Size
Part #
Price
Qty.

Titanium Angled Digital Abutment, Narrow Platform
(includes abutment screw)

AABJHNP
$89.00

Titanium Angled Digital Abutment - non engaging, Narrow Platform (includes abutment screw), for full arch w/ multi-units

AABJHNPN
$89.00

Titanium Angled Digital Abutment - without hex, Narrow Platform, conical seal (includes abutment screw), for two splinted units less than 24 degrees, and immediate temporaries

AABJHNPNC
$89.00

Angled Screw Driver (20Ncm max torque

SDUGA
$55.00
Scan Bodies - For your lab to make this abutment they will need the parts from this page and one of the libraries below

Size
Part #
Price
Qty.
Scan Body DESS Narrow, BIO | Max / NobelActive (Requires SRJH below)
50.041
$25.00
Additional Abutment Screw (only compatible with Blue Sky Bio abutments), BIO | Max Narrow Platform
SRJH
$19.00
Intraoral Scanning with Integrated Scanflag Scanpost for Exocad and 3Shape only. No ScanSnap required.
Size
Part #
Price
Qty.

ScanFlag Scanpost for Regular Digital Abutments

OPTICSTB
$21.00

ScanFlag Scanpost for Mini Digital Abutments

OPTICSTBMI
$21.00
BIO | Max implants are prosthetically compatible with NobelActive® NP platform prosthetic abutments**.
BIO | Max Prosthetics are compatible with NobelActive® NP implant platform.
3mm diameter implants are indicated only for maxillary lateral incisors and mandibular incisors. Narrow diameter implants are not indicated to be used unsplinted in the posterior areas of the mouth.
To leave a review, please log in and refresh the page.
No ratings. Be the first to leave a review!