---
CEL Robox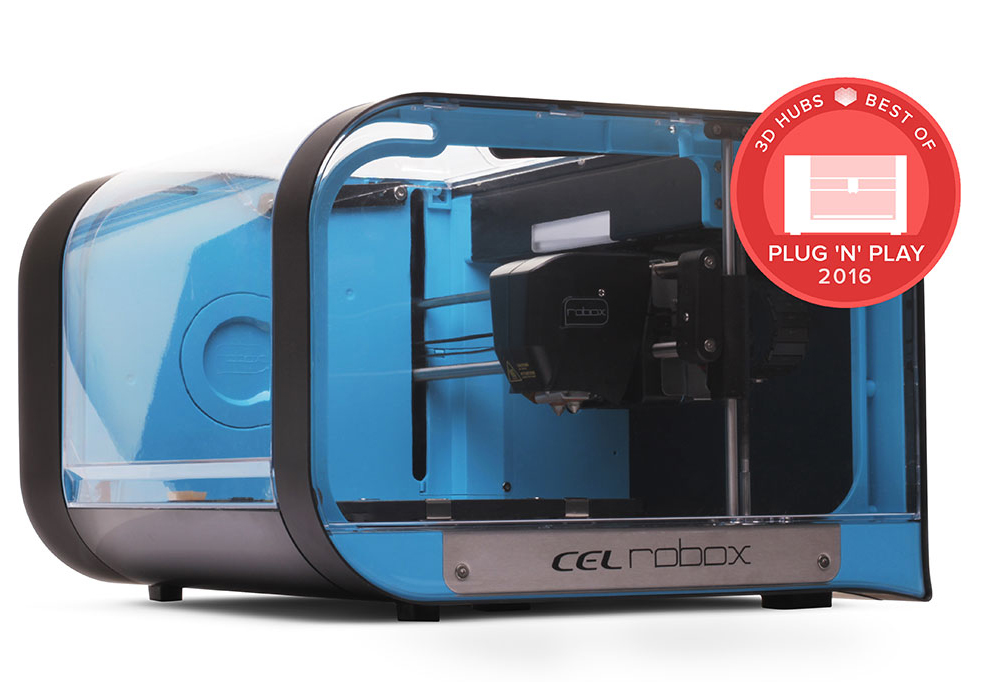 Important Product Information at Bottom of Page
CEL Robox 3D Printer
Size
Part #
Price
Qty.

CEL Robox 3D Printer (including 6 STL Exports a $169 value)
RBX02
$1499.00

PolySupport 120m reel (FOR RBX02 USERS ONLY)
CPOLYSPRT
$45.00

Robox SmartReel Clear nGen by Colorfabb - Approved Food Grade Material: FOR RBX01 and RBX02 USERS)
CCFGC
$44.90
The RoboxDual Micro-Manufacturing Platform includes: 2 RBX01-X2 extruders DualMaterial FFF Print Head, Dual Nozzle FFF Print Head v2, 1 SmartReel of Robox Orange PLA, 1 SmartReel of PolySupport, Dual Reel Adaptor, Set of 4 cleanup tools, bottle of Axis lubricant, bed cleaning wipes (10), tweezers, 2GB USB Drive containing AutoMaker software and sample models, 2m USB cable, 2m IEC C6 AC power cable, Quick Start Guide, safety information booklet, warranty registration card, 2 year RTB warranty, 6 Blue Sky Plan surgical guide exports and Blue Sky Plan surgical guide design online training session.
- Build Volume: 8.3 x 5.9 x 3.9" (210 x 150 x 100mm)
- Excellent layer resolution, down to 20 micron
- Automated calibration
- Dual nozzle, dual material extruder
- Different nozzles for fill and detail
- Uses Robox SmartReel filament or any compatible filament
- For guided surgery applications only food grade or medical grade material can be used
- Can also be used with PLA, ABS, PVA, Nylon, PC, PET and more
- USB connection
- Fast heat up, less than 3 minutes to start printing
- Robox AutoMaker software included, Windows, Mac and Linux compatible
- Flash drive, filament and tools included, everything needed to start printing
- Weight 18 lbs. 5 oz.
- 2 year RTB warranty supplied by CEL
Click here for Robox video.
Click here for Robox User Manual.
Click here to request Ferguson's Robox Settings ($150).
U.S. CEL Robox 3D Printer Technical Support Ph: 480-252-1246 or click here to email CEL Robox Technical Support. Robox phone support is available from 8AM to 6PM MST.
Questions regarding the Blue Sky Plan software, treatment planning, STL exports, surgical guides and printer delivery times should be directed to Blue Sky Bio via plan@blueskybio.com or +1-312-344-3950