Important Product Information at Bottom of Page
EZ Spin Centrifuge Starter Package
Size
Part #
Price
Qty.

EZ SPIN CENTRIFUGE COMPLETE STARTER PACKAGE: ( EZ CENTRIFUGE MADE IN USA) 110VOLT. Including EZ Spin Centrifuge, PRF membrane box, 100 red cap glass tubes (to make clot), 50 white cap plastic tubes (to make liquid I-PRF Sticky Bone), 23G Butterfly blood collection with holder (24 per box), 7-PRF Instruments, Tourniquet, flat tray, bowl, and metal sterile cassette.

EZSCCSP
$1990.00
EZ Spin Centrifuge
Size
Part #
Price
Qty.

EZ Spin Centrifuge (A-PRF - I-PRF - L-PRF) 110VOLT

EZCENTRIFUGE
$1100.00
Additional Items
Size
Part #
Price
Qty.

A-PRF BD- Red Blood Collection Tubes, glass 100 per box (BD Vacutainer glass collection tubes, 16 x 100mm x 10.0ml, sterile, glass tubes, conventional top closure)

RBCT100
$169.00

PRF Membrane Box (PRF Box allows to get membranes always hydrated and of constant thickness, but also to recover the exsudate rich in proteins: Vitronectin and Fibronectin. You can also produce ''plugs'' of PRF)

PRFMB
$349.00

Vacuette White Cap Plastic 9ml – 50 per box, I-PRF (Vacuette Tube 6ml No Additive - White cap-black ring, non-ridged. 50/box. Can be used for injectable PRF (iPRF)

VWCP50
$74.00

PRF – Butterfly 21g Blood Collection Needle with Holder, Sterile, 24 per box

PB21GBC
$84.00
6-place test tube centrifuge for spinning blood in 0.5ml to 15ml test tubes. The maintenance-free, brushless motor spins at 5,000rpm (2500g) producing serum in as little as 5 minutes. The unit is small, conserving counter space, but also sturdy with suction-cupped feet stability.
EZ Spin Centrifuge and Starter Package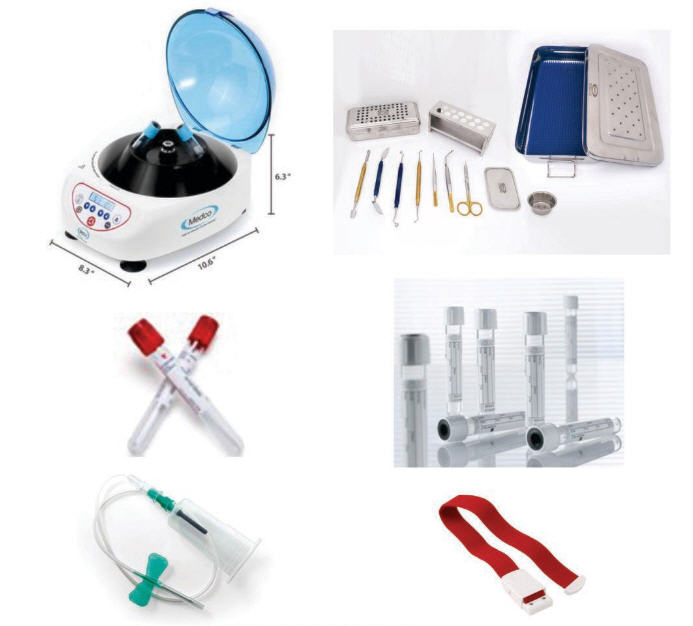 Service and two year warranty provided by Medco Instruments. For videos and information regarding training please click here.
Click here for Centrifuge IFU.
To leave a review, please log in and refresh the page.
No ratings. Be the first to leave a review!