Important Product Information at Bottom of Page
Implantest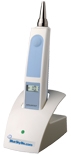 Size
Part #
Price
Qty.
Implantest Complete System
Implantest
$1790.00
Extra Probe Tip
5953518
$50.00
Replacement Test Sleeve
5950027
$11.00
The Implantest is a digital measuring instrument for use in dental practices. It is designed for the following range of applications:

- Assessment of the stability of dental implants immediately after placement, during the integration phase and post restoration
- Diagnosis and assessment of tooth mobility

Unlike other measuring devices, Implantest can be used directly on healing screws, abutments, restorations and teeth.

The instrument's scale ranges from +0.1 to +10.0. The unit of measure is "Implantest values," which correspond to the contact time of the probe with the measured object (tooth, implant). A short contact time corresponds to a high Implantest value; a long contact time corresponds to a low Implantest value.

Complete system includes the following:
– Implantest including probe
– Lithium-ion polymer battery (built-in)
– Switch mode power supply unit
– Battery charger
– Test sleeve
– Cleaning brush
– Operating Instructions

Implantest is based on the long term technology and clinical success of the Periotest measuring device.

Getting Started Hints: during the measuring process the Implantest must be held horizontally with a maximum deviation of approximately +/- 25 degrees. A distance of 1 to 2mm is necessary between tip of probe and target. Conduct a series of test measurements on a model to learn positioning prior to use.

Click here to see the Implantest comparison chart.

Click here to review the Implantest operating manual.

Two year warranty on handheld device from date of purchase. Six month warranty on all accessories. Warranty supplied by Medizintechnik Gulden. Freight charges to Medizintechnik paid by customer. Return freight included if repair covered by warranty.
Click here to see scientific publications related to the Implantest (PerioTest).