Important Product Information at Bottom of Page
15° Angle Correction
Size
Part #
Price
Qty.

6mm - Preparable Abutment Regular/Narrow

AU5541
$85.00
25° Angle Correction
Size
Part #
Price
Qty.

6mm - Preparable Abutment Regular/Narrow

AU5548
$85.00
whiteMetal® OPAQUER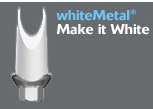 Size
Part #
Price
Qty.
whiteMetal Opaquer, 1 gram -

Temporarily Unavailable

WM1
$55.00

whiteMetal® is a light cured, resin based opaquer, with zirconia particles for titanium abutments. It masks the metal with a layer of only 25-50 microns and has an excellent bond strength of 35 MPa. whiteMetal is intended to be covered by a restoration and not designed to be left exposed.
Only Compatible with Tissue Level implants.
Compatible with Straumann®-ITI® Lifecore® Stage 1® implants.
Blue Sky Bio 1-piece angle correction abutments have increased fracture resistance and require intraoral preparation with a carbide bur and copious irrigation. Blue Sky Bio angle correction abutments are not a 2-piece design like ITI-Straumann® angled abutments.
Angle Correction Abutments will fit narrow and regular platform implants.
Must be inserted with a .048 screwdriver head. (See Prosthetic Kits).
For 2-piece angle correction abutments click here.
Requires intraoral preparation.