---
Titanium Custom Abutment Practice
Important Product Information at Bottom of Page
3.7mm Titanium Custom Abutment Practice Building Kit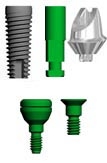 Size
Part #
Price
Qty.
8mm Titanium Practice Building
TCAKIH3708
$375.00
10mm Titanium Practice Building
TCAKIH3710
$375.00
11.5mm Titanium Practice Building
TCAKIH3711
$375.00
13mm Titanium Practice Building
TCAKIH3713
$375.00

Kits include Internal Hex implant, Titanium custom abutment service, analog, healing abutment and cover screw
4.1mm Titanium Custom Abutment Practice Building Kit

Size
Part #
Price
Qty.
8mm Titanium Practice Building
TCAKIH4108
$375.00
10mm Titanium Practice Building
TCAKIH4110
$375.00
11.5mm Titanium Practice Building
TCAKIH4111
$375.00
13mm Titanium Practice Building
TCAKIH4113
$375.00
4.7mm Titanium Custom Abutment Practice Building Kit

Size
Part #
Price
Qty.
11.5mm Titanium Practice Building
TCAKIH4711
$375.00
Restorative Products - Internal Hex System
Size
Part #
Price
Qty.

3.5 Closed Tray Impression Transfer

MIH3500
$39.00

4.5 Closed Tray Impression Transfer

MIH4500
$39.00
Blue Sky Bio has partnered with Elegant Dental Laboratories to provide Customer Titanium Abutment services.

Please download and print the attached Custom Titanium Abutment Service form.

Complete the form and fax it to 888-234-3685 and mail it along with required items to:

Elegant Dental Laboratories
Attn: BSB Custom Abutment Service
1575 McDonald Avenue
Brooklyn, NY 11230

Phone: 718-375-5999
www.elegantlab.com

Notice: Elegant Dental Laboratories cannot fabricate a custom abutment with an angle greater than 25 degrees. Inter-occlusal distance must be at least 6mm. The case must include articulated soft tissue models. Model/articulation service is not included in the price. You will need to pour the models and articulate them yourself, or have your laboratory perform this service. Margins can only be judged based on the soft tissue model you provide. Changes to tissue position post impression will need to be adjusted chairside by the clinician. Elegant Dental Laboratories reserves the right to return cases that do not fit the criteria of clear soft tissue position, angles less than 25 degrees, at least 6mm of inter-occlusal distances, or other clinical factors that would prevent us from providing clinically excellent results.

After receiving the completed form and necessary items, you should receive your order within 7 business days.
To leave a review, please log in and refresh the page.
No ratings. Be the first to leave a review!