Important Product Information at Bottom of Page
BIO | Blue Platinum - For Implantology, Endodontics, and Oral Surgery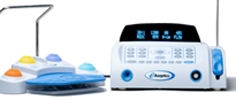 Size
Part #
Price
Qty.
BIO | Blue Platinum: For Implantology, Endodontics and Oral Surgery. (LED or Non-LED handpieces) Up to 80 Ncm in Implant mode, up to 4.99 Ncm in Surgical mode, up to 1000 g-cm in Endo mode).
AEU-7000L-70V
$5195.00
Choose A Handpiece
Size
Part #
Price
Qty.

Saeshin Strong 20:1 Handpiece External Irrigation (button)

ACL(B)-61i
$285.00

Saeshin Traus 20:1 Non-Optic Handpiece External Irrigation (button)

CRB26XX
$530.00

Anthogyr Impulsion 20:1 Contra Angle (brush type); 50 Ncm tolerance

AHP-85P-I
$919.00

Anthogyr Mont Blanc 20:1 Contra Angle (high efficiency); 80 Ncm tolerance

AHP-85MB-X
$1449.00

Saeshin Strong 1:1 Straight Handpiece External Irrigation (PURCHASE ST-NOZZLE CLIP BELOW)

AT-11
$150.00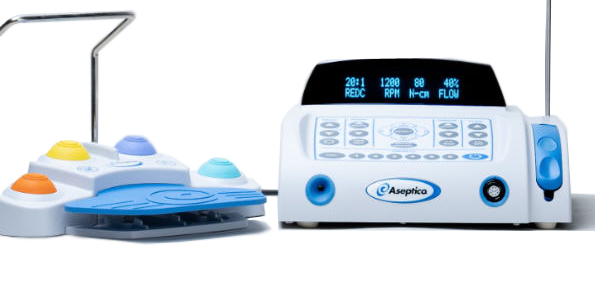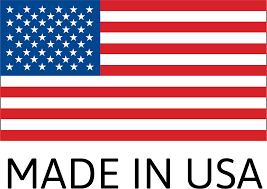 BIO | BluePlatinum Touch-Screen Surgical Motor System

- Dynamometer calibration system ensures the greatest operational accuracy
- Six programmable preset buttons allow for complete personalization, making it ideal to work with any implant system
- Use as an oral surgery motor--up to 4.95 Ncm for any surgical application, including third molar extractions, making this a great Stryker™ replacement
- Upgradeable software means that the 7000 will stay up-to-date for years
Features
- Ideal for all traditional and mini implants
- Adjustable torque:
o Up to 80 Ncm in Implant Mode
o Up to 4.95 Ncm for surgical applications
o Up to 1000 g-cm in Endo Mode
- 40k rpm autoclavable micromotor
- FDA, NRTL, and CE compliant
- Compatible with E-type 1:8 endo, 20:1 implant, 1:1, 1:2 surgical, 1:5 high speed handpieces
- Automatically adjusts to most handpiece ratios
- Upgradeable software
- Easy-load irrigation pump
- Selectable Auto-Stop function in Implant Mode and Auto-Stop-Reverse in Endo Mode when desired torque setting is reached
- Easy-to-use interface that features adjustable handpiece ratio, speed, torque, and irrigation flow settings
- Multifunction Foot Control - Pump on/off, Flow Rate, Micromotor Direction, Preset Selection and Torque
- Auto-sensing dual voltage
Click here for instructional manual
2 year warranty of control panel, 1 year warranty on handpieces (6 month warranty of ACL(B)-411 and AT-11)
Warranty, repairs & service supplied by:
Aseptico
8333 216th Street SE
Woodinville, WA 98072
Ph: 866-244-7095
Clinicians should use their clinical expertise when determining the drilling protocol. One suggested protocol for osteotomies is drilling at 1000 RPM with copious irrigation at maximum torque. Implant insertion should be done at approximately 30 - 50 RPM with a torque determined by the clinician.