Important Product Information at Bottom of Page
Traus Optic Implant Motor
Size
Part #
Price
Qty.

Traus Optic complete system includes controller, 3 button foot pedal, motor and 20:1 optic angle handpiece


New Product

SIP10
$2500.00
Other Traus Optic Items
Size
Part #
Price
Qty.

Optic Etype Motor, Max 40,000 RPM, LED 25,000 LUX

MBP10SL
$700.00

Traus Optic Contra Angle, 20:1

CRB26LX
$600.00

Traus Non-Optic Contra Angle, 20:1

CR26XX
$530.00

Traus Optic Contra Angle, 20:1, 80 Ncm, Easy clean


New Product

CRB46LN
$650.00

Traus Non-Optic Contra Angle, 20:1, 80 Ncm, Easy clean


New Product

CRB46NN
$650.00

Strong, Non-Optic Contra Angle, 20:1

ACL(B)-61i
$285.00

Strong, Non-Optic Contra Angle, 16:1

ACL(B)-432
$285.00

Strong, Non-Optic Contra Angle, 32:1

ACL(B)-452
$285.00

Strong, Straight Handpiece, 1:1 (Purchase ST-NOZZLE clip below)

AT-11
$150.00
Nozzle clip 1:1 Straight Handpiece
ST-Nozzle
$32.00
Nozzle clip 16:1, 20:1, 32:1 Handpiece (Internally irrigated drills only. For externally irrigated drills do not use AG-Nozzle
AG-Nozzle
$32.00

Irrigation tubing (single)

TUBE
$8.00
Y-Connector (Internally irrigated drills only. Externally irrigated drills do not use Y-Connector)
Y-Conn
$19.00

Synthetic Premium Handpiece Lubricant

LU1011HS
$30.00
Lubricant Tool Attachment (necessary for lubricant)
LT1013HS
$10.00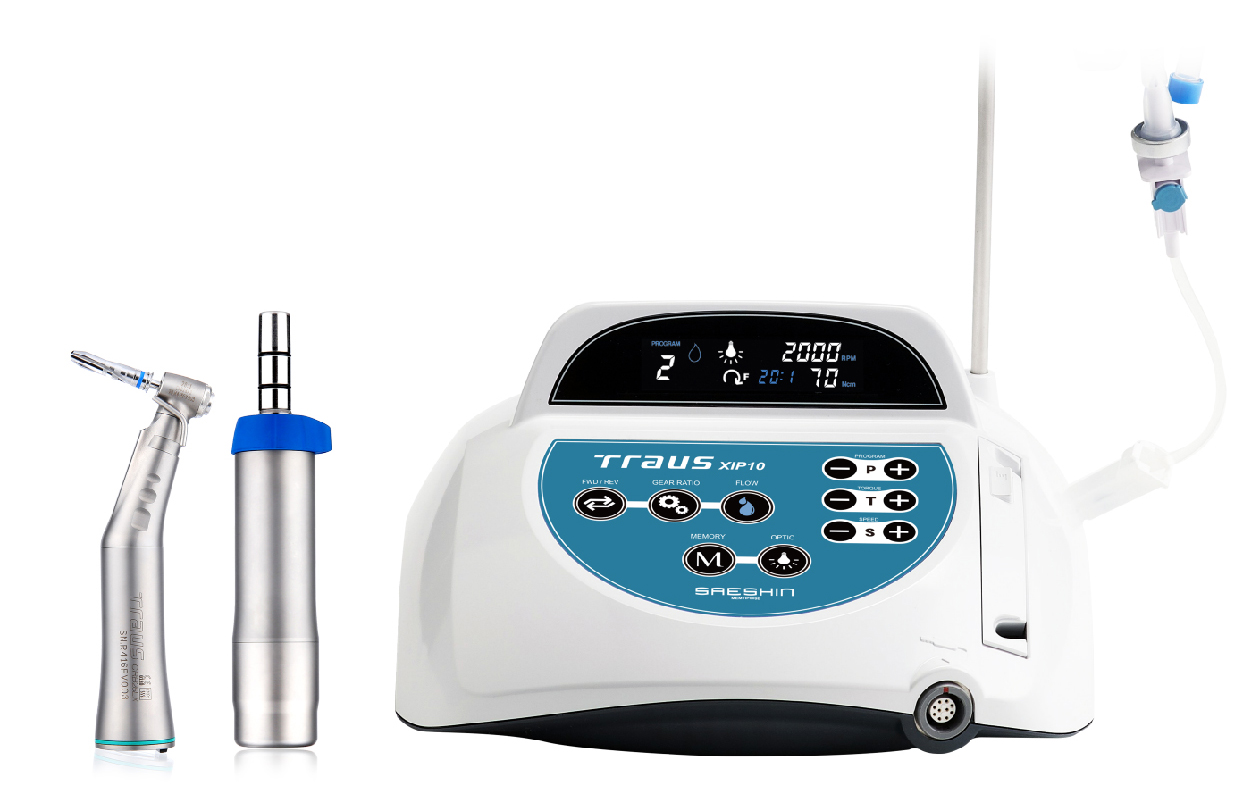 Traus Optic Surgical Motor System
- Traus X10 surgical control panel
- 20:1 optic handpiece (40,000 RPM)
- 70Ncm max torque with the 20:1 optic handpiece
- Three button foot pedal
- Irrigation tubing
- Handpiece holder
- Water/saline hanger
- User manual
Warranty/Repair/Service: One year on handpiece and two years on console
For warranty and non-warranty repairs please follow these steps:
- Contact Blue Sky Bio to confirm if unit or component is covered under warranty.
- Contact Saeshin America, the authorized service center at (949) 825-6925 to arrange for service and repair. Please note that Blue Sky Bio does not offer a loaner program.
Click here for Traus SIP10 user's manual.