Important Product Information at Bottom of Page
3.0mm Implant - 3.0 Platform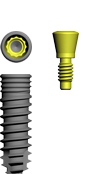 Size
Part #
Price
Qty.
Ø3.0 x 10mm, 3.0 Platform BIO | Three Implant Pack
IDH3010
$149.00
Ø3.0 x 11mm, 3.0 Platform BIO | Three Implant Pack
IDH3011
$149.00
Ø3.0 x 13mm, 3.0 Platform BIO | Three Implant Pack
IDH3013
$149.00

Packs include BIO | Three implant, 1mm cover screw and a 3mm healing abutment.

*Volume discount available 10+ of one size @ $140.00
3.5mm Implant - 3.5/4.0 Platform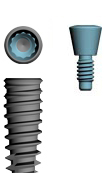 Size
Part #
Price
Qty.
Ø3.5 x 8mm, 3.5/4.0 Platform BIO | Conus 12 Implant Pack
IDH3508
$149.00
Ø3.5 x 9mm, 3.5/4.0 Platform BIO | Conus 12 Implant Pack
IDH3509
$149.00
Ø3.5 x 11mm, 3.5/4.0 Platform BIO | Conus 12 Implant Pack
IDH3511
$149.00
Ø3.5 x 13mm, 3.5/4.0 Platform BIO | Conus 12 Implant Pack
IDH3513
$149.00

Packs include BIO | Conus 12 implant, 1mm cover screw and a 3mm healing abutment.

*Volume discount available 10+ of one size @ $140.00
4.0mm Implant - 3.5/4.0 Platform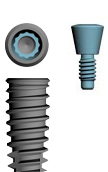 Size
Part #
Price
Qty.
Ø4.0 x 8mm, 3.5/4.0 Platform BIO | Conus 12 Implant Pack
IDH4008
$149.00
Ø4.0 x 9mm, 3.5/4.0 Platform BIO | Conus 12 Implant Pack
IDH4009
$149.00
Ø4.0 x 11mm, 3.5/4.0 Platform BIO | Conus 12 Implant Pack
IDH4011
$149.00
Ø4.0 x 13mm, 3.5/4.0 Platform BIO | Conus 12 Implant Pack
IDH4013
$149.00

Packs include BIO | Conus 12 implant, 1mm cover screw and a 3mm healing abutment.

*Volume discount available 10+ of one size @ $140.00
4.5 Implant x 6mm long - 3.5 Platform Switch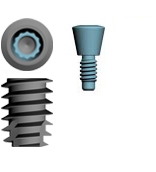 Size
Part #
Price
Qty.
Ø4.5 x 6mm, 3.5/4.0 Platform Switch BIO | Conus 12 Implant Pack (Healing Abutment offered separately. See below.)
IDHPS4506
$149.00
4.8mm x 3mm Healing Abutment, 3.5/4.0 Platform, Conus 12 System
HDH354803
$33.00
4.8mm x 5mm Healing Abutment, 3.5/4.0 Platform, Conus 12 System
HDH354805
$33.00
6.5mm x 3mm Healing Abutment, 3.5/4.0 Platform, Conus 12 System
HDH356503
$33.00
6.5mm x 5mm Healing Abutment, 3.5/4.0 Platform, Conus 12 System
HDH356505
$33.00

Packs include BIO | Conus 12 implant, 1mm cover screw.

*Volume discount available 10+ of one size @ $140.00
4.5mm Implant - 4.5/5.0 Platform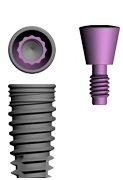 Size
Part #
Price
Qty.
Ø4.5 x 9mm, 4.5/5.0 Platform BIO | Conus 12 Implant Pack
IDH4509
$149.00
Ø4.5 x 11mm, 4.5/5.0 Platform BIO | Conus 12 Implant Pack
IDH4511
$149.00
Ø4.5 x 13mm, 4.5/5.0 Platform BIO | Conus 12 Implant Pack
IDH4513
$149.00

Packs include Conus 12 implant, 1mm cover screw and a 3mm healing abutment.

*Volume discount available 10+ of one size @ $140.00
5.0 Implant x 6mm long - 3.5 Platform Switch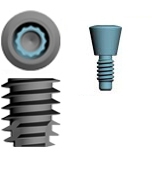 Size
Part #
Price
Qty.
Ø5.0 x 6mm, 3.5/4.0 Platform Switch BIO | Conus 12 Implant Pack (Healing Abutment offered separately. See below.)
IDHPS5006
$149.00
4.8mm x 3mm Healing Abutment, 3.5/4.0 Platform, Conus 12 System
HDH354803
$33.00
4.8mm x 5mm Healing Abutment, 3.5/4.0 Platform, Conus 12 System
HDH354805
$33.00
6.5mm x 3mm Healing Abutment, 3.5/4.0 Platform, Conus 12 System
HDH356503
$30.00
6.5mm x 5mm Healing Abutment, 3.5/4.0 Platform, Conus 12 System
HDH356505
$30.00

Packs include BIO | Conus 12 implant, 1mm cover screw.

*Volume discount available 10+ of one size @ $140.00
5.0mm Implant - 4.5/5.0 Platform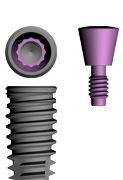 Size
Part #
Price
Qty.
Ø5.0 x 8mm, 4.5/5.0 Platform BIO | Conus 12 Implant Pack
IDH5008
$149.00
Ø5.0 x 9mm, 4.5/5.0 Platform BIO | Conus 12 Implant Pack
IDH5009
$149.00
Ø5.0 x 11mm, 4.5/5.0 Platform BIO | Conus 12 Implant Pack
IDH5011
$149.00
Ø5.0 x 13mm, 4.5/5.0 Platform BIO | Conus 12 Implant Pack
IDH5013
$149.00

Packs include BIO | Conus 12 implant, 1mm cover screw and a 3mm healing abutment.

*Volume discount available 10+ of one size @ $140.00
BIO | Conus 12 implants, prosthetics and instrumentation are fully compatible with Astra Tech's OsseoSpeed™ TX Dental implant system.
3mm diameter implants are indicated only for maxillary lateral incisors and mandibular incisors. Narrow diameter implants are not indicated to be used unsplinted in the posterior areas of the mouth.
Blue Sky Bio only recommends the use of our drills with our implants. Blue Sky Bio drills are matched to Blue Sky Bio implant diameters. We do not recommend the use of osseodensification in type 1 and type 2 bone. We do not recommend osseodensification in the mandible at the time of implant placement.