Purchase guide tubes in 20 packs or more of same size and individual tubes drop to $7 per unit and 5 packs drop to $32
Important Product Information at Bottom of Page
3.3mm Ø Narrow

Size
Part #
Price
Qty.
Ø3.3 x 10mm, 4.1mm Platform One Stage Guided Kit
GSKOSN3310
$176.00
Ø3.3 x 12mm, 4.1mm Platform One Stage Guided Kit
GSKOSN3312
$176.00
Additional Guide Tube

(order if needed)


OD = 4.9mm
ID = 2.89mm
Height = 5mm
Lip = 1mm
TUBE49-289
$9.00
Drill 2.8mm, short

(order if needed)

DRILLT28S
$79.00
BIO | Cut Shank Sleeve for DRILLT28S


(order if needed)

CDRT28S
$12.00
Drill 2.8mm, long

(order if needed)

DRILLT28L
$79.00
BIO | Cut Shank Sleeve for DRILLT28L


(order if needed)

CDRT28L
$12.00
4.1mm Ø Narrow

Size
Part #
Price
Qty.
Ø4.1 x 10mm, 4.1mm Platform One Stage Guided Kit
GSKOSN4110
$176.00
Ø4.1 x 12mm, 4.1mm Platform One Stage Guided Kit
GSKOSN4112
$176.00
Additional Guide Tube (5 Pack)

(order if needed)


OD = 4.68mm
ID = 3.68mm
Height = 5mm
Lip = 1mm
TUBE368
$39.00
Drill 3.5mm, short

(order if needed)

DRILLT35S
$79.00
BIO | Cut Shank Sleeve for DRILLT35S


(order if needed)

CDRT35S
$12.00
Drill 3.5mm, long

(order if needed)

DRILLT35L
$79.00
BIO | Cut Shank Sleeve for DRILLT35L


(order if needed)

CDRT35L
$12.00
3.3mm Ø Regular

Size
Part #
Price
Qty.
Ø3.3 x 10mm, Regular Platform One Stage Guided Kit
GSKOSR3310
$169.00
Ø3.3 x 12mm, Regular Platform One Stage Guided Kit
GSKOSR3312
$169.00
Additional Guide Tube

(order if needed)


OD = 4.9mm
ID = 2.89mm
Height = 5mm
Lip = 1mm
TUBE49-289
$9.00
Drill 2.8mm, short

(order if needed)

DRILLT28S
$79.00
BIO | Cut Shank Sleeve for DRILLT28S


(order if needed)

CDRT28S
$12.00
Drill 2.8mm, long

(order if needed)

DRILLT28L
$79.00
BIO | Cut Shank Sleeve for DRILLT28L


(order if needed)

CDRT28L
$12.00
4.1mm Ø Regular

Size
Part #
Price
Qty.
Ø4.1 x 8mm, Regular Platform One Stage Guided Kit
GSKOSR4108
$169.00
Ø4.1 x 10mm, Regular Platform One Stage Guided Kit
GSKOSR4110
$169.00
Ø4.1 x 12mm, Regular Platform One Stage Guided Kit
GSKOSR4112
$169.00
Ø4.1 x 14mm, Regular Platform One Stage Guided Kit
GSKOSR4114
$169.00
Ø4.1 x 16mm, Regular Platform One Stage Guided Kit
GSKOSR4116
$169.00
Additional Guide Tube (5 Pack)

(order if needed)


OD = 4.68mm
ID = 3.68mm
Height = 5mm
Lip = 1mm
TUBE368
$39.00
Drill 3.5mm, short

(order if needed)

DRILLT35S
$79.00
BIO | Cut Shank Sleeve for DRILLT35S


(order if needed)

CDRT35S
$12.00
Drill 3.5mm, long

(order if needed)

DRILLT35L
$79.00
BIO | Cut Shank Sleeve for DRILLT35L


(order if needed)

CDRT35L
$12.00
4.8mm Ø Regular

Size
Part #
Price
Qty.
Ø4.8 x 8mm, Regular Platform One Stage Guided Kit
GSKOSR4808
$169.00
Ø4.8 x 10mm, Regular Platform One Stage Guided Kit
GSKOSR4810
$169.00
Ø4.8 x 12mm, Regular Platform One Stage Guided Kit
GSKOSR4812
$169.00
Ø4.8 x 14mm, Regular Platform One Stage Guided Kit
GSKOSR4814
$169.00
Ø4.8 x 16mm, Regular Platform One Stage Guided Kit
GSKOSR4816
$169.00
Additional Guide Tube

(order if needed)


OD = 4.9mm
ID = 4.42mm
Height = 5mm
Lip = 1mm
TUBE49-442
$9.00
Drill 4.3mm, short

(order if needed)

DRILLT43S
$79.00
BIO | Cut Shank Sleeve for DRILLT43S


(order if needed)

CDRT43S
$12.00
Drill 4.3mm, long

(order if needed)

DRILLT43L
$79.00
BIO | Cut Shank Sleeve for DRILLT43L


(order if needed)

CDRT43L
$12.00
4.8mm Ø Wide

Size
Part #
Price
Qty.
Ø4.8 x 8mm, Wide Platform One Stage Guided Kit
GSKOSW4808
$169.00
Ø4.8 x 10mm, Wide Platform One Stage Guided Kit
GSKOSW4810
$169.00
Ø4.8 x 12mm, Wide Platform One Stage Guided Kit
GSKOSW4812
$169.00
Additional Guide Tube

(order if needed)


OD = 4.9mm
ID = 4.42mm
Height = 5mm
Lip = 1mm
TUBE49-442
$9.00
Drill 4.3mm, short

(order if needed)

DRILLT43S
$79.00
BIO | Cut Shank Sleeve for DRILLT43S


(order if needed)

CDRT43S
$12.00
Drill 4.3mm, long

(order if needed)

DRILLT43L
$79.00
BIO | Cut Shank Sleeve for DRILLT43L


(order if needed)

CDRT43L
$12.00
5.6mm Ø Wide

Size
Part #
Price
Qty.
Ø5.6 x 8mm, Wide Platform One Stage Guided Kit
GSKOSW5608
$190.00
Ø5.6 x 10mm, Wide Platform One Stage Guided Kit
GSKOSW5610
$190.00
Additional Guide Tube

(order if needed)


OD = 6.09mm
ID = 5.13mm
Height = 5mm
Lip = 1mm
TUBE609-513
$9.00
Drill 5.0mm, short

(order if needed)

DRILLT50S
$79.00
BIO | Cut Shank Sleeve for DRILLT50S


(order if needed)

CDRT50S
$12.00
4.8mm Ø Regular Short

Size
Part #
Price
Qty.
Ø4.8 x 6mm, Regular Short Platform One Stage Guided Kit
GSKOSRS4806
$197.00
Additional Guide Tube

(order if needed)


OD = 4.9mm
ID = 4.42mm
Height = 5mm
Lip = 1mm
TUBE49-442
$9.00
Drill 4.3mm, short

(order if needed)

DRILLT43S
$79.00
BIO | Cut Shank Sleeve for DRILLT43S


(order if needed)

CDRT43S
$12.00
Drill 4.3mm, long

(order if needed)

DRILLT43L
$79.00
BIO | Cut Shank Sleeve for DRILLT43L


(order if needed)

CDRT43L
$12.00
5.6mm Ø Wide Short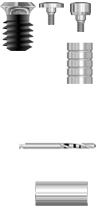 Size
Part #
Price
Qty.
Ø5.6 x 6mm, Wide Short Platform One Stage Guided Kit
GSKOSWS5606
$197.00
Additional Guide Tube

(order if needed)


OD = 6.09mm
ID = 5.13mm
Height = 5mm
Lip = 1mm
TUBE609-513
$9.00
Drill 5.0mm, short

(order if needed)

DRILLT50S
$79.00
BIO | Cut Shank Sleeve for DRILLT50S


(order if needed)

CDRT50S
$12.00
Compatible with Straumann ® ITI® implants, SynOcta® system, solid abutments, instrumentation and prosthetics.
Our new narrow platform uses the same prosthetics as regular platform
Shank sleeves are inserted onto the drill shaft prior to inserting the drill into the hand piece. The sleeve will enlarge the drill shaft to match the diameter width of the cutting edge.
For easy insertion, implants must be placed with a J-implant insertion driver and should not be used with other companies' mounts.
Guided Kits include: an implant, 1mm cover screw, 3mm healing abutment and a guide tube.
Click here to download the Guided Surgery Manual or click here to watch an instructional Guided Surgery Video.
Purchase guide tubes in 20 packs or more of same size and individual tubes drop to $7 per unit and 5 packs drop to $32