Important Product Information at Bottom of Page
Wide 4.1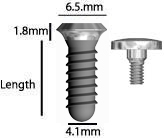 Size
Part #
Price
Qty.
Ø4.1 x 8mm, Wide Platform One Stage Implant
IOW4108
$145.00
Ø4.1 x 10mm, Wide Platform One Stage Implant
IOW4110
$145.00
Ø4.1 x 12mm, Wide Platform One Stage Implant
IOW4112
$145.00

*Volume discount available: 10+ of one size @ $138.00 - Cover screw included
Wide 4.8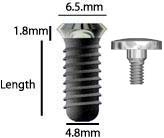 Size
Part #
Price
Qty.
Ø4.8 x 8mm, Wide Platform One Stage Implant
IOW4808
$145.00
Ø4.8 x 10mm, Wide Platform One Stage Implant
IOW4810
$145.00
Ø4.8 x 12mm, Wide Platform One Stage Implant
IOW4812
$145.00

*Volume discount available: 10+ of one size @ $138.00 - Cover screw included
Wide 5.6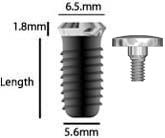 Size
Part #
Price
Qty.
Ø5.6 x 8mm, Wide Platform One Stage Implant
ITW5608
$145.00
Ø5.6 x 10mm, Wide Platform One Stage Implant
ITW5610
$145.00

*Volume discount available: 10+ of one size @ $138.00 - Cover screw included
Implants blasted with resorbable media and acid washed - Cover screw included.
Compatible with Straumann ® ITI® implants, SynOcta® system, solid abutments, instrumentation and prosthetics.
Our new narrow platform uses the same prosthetics as regular platform
For easy insertion, implants must be placed with a J-implant insertion driver and should not be used with other companies' mounts.
*Discount available to U.S. and Canada customers.
Blue Sky Bio only recommends the use of our drills with our implants. Blue Sky Bio drills are matched to Blue Sky Bio implant diameters. We do not recommend the use of osseodensification in type 1 and type 2 bone. We do not recommend osseodensification in the mandible at the time of implant placement.