Important Product Information at Bottom of Page
Wide 4.1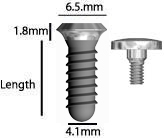 Size
Part #
Price
Qty.
Ø4.1 x 8mm, Wide Platform One Stage Implant
IOW4108
$145.00
Ø4.1 x 10mm, Wide Platform One Stage Implant
IOW4110
$145.00
Ø4.1 x 12mm, Wide Platform One Stage Implant
IOW4112
$145.00

*Volume discount available: 10+ of one size @ $138.00 - Cover screw included
Wide 4.8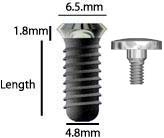 Size
Part #
Price
Qty.
Ø4.8 x 8mm, Wide Platform One Stage Implant
IOW4808
$145.00
Ø4.8 x 10mm, Wide Platform One Stage Implant
IOW4810
$145.00
Ø4.8 x 12mm, Wide Platform One Stage Implant
IOW4812
$145.00

*Volume discount available: 10+ of one size @ $138.00 - Cover screw included
Wide 5.6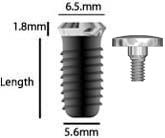 Size
Part #
Price
Qty.
Ø5.6 x 8mm, Wide Platform One Stage Implant
ITW5608
$145.00
Ø5.6 x 10mm, Wide Platform One Stage Implant
ITW5610
$145.00

*Volume discount available: 10+ of one size @ $138.00 - Cover screw included
Implants blasted with resorbable media and acid washed - Cover screw included.
Compatible with Straumann ® ITI® implants, SynOcta® system, solid abutments, instrumentation and prosthetics.
Our new narrow platform uses the same prosthetics as regular platform
For easy insertion, implants must be placed with a J-implant insertion driver and should not be used with other companies' mounts.
*Discount available to U.S. and Canada customers.