Important Product Information at Bottom of Page
Fully Guided Keyless Kit

Video
Size
Part #
Price
Qty.


Quattro Fully Guided Keyless Kit



GSKQ
$3146.00
Be Prepared For Non Guided Surgery
BIO | Max Complete Standard Surgical Kit (

Save 35% when you buy complete kit at the same time you buy a Fully Guided Keyless Kit

)
QCSK
$1435.00
Master Cylinder for Fully Guided Kit (Cerec M Master Tube Compatible)
Recommended guide tube for all Blue Sky Plan generated guides. Requires a printed guide with a 5.34mm diameter hole. Allows for placement of up to and including 5mm implants using the Blue Sky Bio fully guided keyless kit.
Cerec M Master Tube for CG2, CG1, Optiguides, and classic guides using the Blue Sky Bio fully guided keyless kit. D2 = 8mm plus implant length.
ID=5.04mm
OD=5.24mm
Height=4mm
Lip=0.5mm of total height
Tube524-504-4L
$7.00
Master Cylinder for Fully Guided Kit (Cerec M Master Tube Compatible)
Recommended guide tube for all Blue Sky Plan generated guides. Requires a printed guide with a 5.34mm diameter hole. Allows for placement of up to and including 5mm implants using the Blue Sky Bio fully guided keyless kit.
Cerec M Master Tube for CG2, CG1, Optiguides, and classic guides using the Blue Sky Bio fully guided keyless kit. D2 = 8mm plus implant length.
ID=5.04mm
OD=5.24mm
Height=4mm
Without Lip
TUBE524-504-4LNF
$7.00
Master Cylinder for Fully Guided Kit (Cerec L Master Tube Compatible)
Recommended guide tube for all Blue Sky Plan generated guides. Requires a printed guide with a 6.0 mm diameter hole. Allows for placement of up to and including 5mm implants using the Blue Sky Bio fully guided keyless kit.
Cerec L Master Tube for CG2, CG1, Optiguides, and classic guides using the Blue Sky Bio fully guided keyless kit. D2 = 8mm plus implant length.
ID=5.04mm
OD=5.9mm
Height=4.5mm
Lip=0.5mm of total height
Tube59-504-45L
$7.00
Guided Kit Individual Components And Accessories
Size
Part #
Price
Qty.

Guided Drill, Quattro, 2.2 x 6mm

DRILTG2206
$98.00

Guided Drill, Quattro, 2.2 x 8mm

DRILTG2208
$98.00

Guided Drill, Quattro, 2.2 x 10mm

DRILTG2210
$98.00

Guided Drill, Quattro, 2.2 x 12mm

DRILTG2212
$98.00

Guided Drill, Quattro, 2.8 x 6mm

DRILTG2806
$98.00

Guided Drill, Quattro, 2.8 x 8mm

DRILTG2808
$98.00

Guided Drill, Quattro, 2.8 x 10mm

DRILTG2810
$98.00

Guided Drill, Quattro, 2.8 x 12mm

DRILTG2812
$98.00

Guided Drill, Quattro, 3.5 x 6mm

DRILTG3506
$98.00

Guided Drill, Quattro, 3.5 x 8mm

DRILTG3508
$98.00

Guided Drill, Quattro, 3.5 x 10mm

DRILTG3510
$98.00

Guided Drill, Quattro, 3.5 x 8mm

DRILTG3512
$98.00

Guided Drill, Quattro, 4.3 x 6mm

DRILTG4306
$98.00

Guided Drill, Quattro, 4.3 x 8mm

DRILTG4308
$98.00

Guided Drill, Quattro, 4.3 x 10mm

DRILTG4310
$98.00

Guided Drill, Quattro, 4.3 x 12mm

DRILTG4312
$98.00

Bone Crest Flattening Drill

DRILGFLAT
$98.00

Guided Implant Driver, Quattro

DMGSQNV
$134.00

Guided Implant Driver, Quattro

DMGSQRV
$134.00

Guided Implant Driver, Quattro

DTGSQNV
$134.00

Guided Implant Driver, Quattro

DTGSQRV
$134.00

70 Ncm Torque Ratchet

70NTR
$189.00

S6 Star Ratchet Screw Driver, Short (Straumann® compatible)

SDSQS
$55.00

S6 Star Ratchet Screw Driver, Long (Straumann® compatible

SDSQL
$55.00

Guide Fixation Pin (5 Pack)
Diameter = 2.17mm
Length without handle = 20.80mm
Length with handle = 25.80mm
Works with DRILLT22S and TUBE231

PIN
$79.00

Drill Stop Drill Extender

TDE
$79.00

Thumb Knob

TK
$30.00

Guided Cassette, Quattro

QGSC
$299.00
Other Surgical Instrumentation
Size
Part #
Price
Qty.

Reusable Adapter for Straumann™ Driver, Stainless Steel for Narrow Platform, only to be used with Straumann kits

MOUNTSQNP-S
$85.00

Reusable Adapter for Straumann™ Driver, Stainless Steel for Regular Platform, only to be used with Straumann kits

MOUNTSQRP-S
$85.00

2.31 Guide Tube (5 Pack)
ID=2.31mm
OD=3.31mm
Height=5mm
Lip=1mm of total height

Tube231
$39.00

Drill 2.2mm, short

DRILLT22S
$79.00

Drill 2.2mm, long

DRILLT22L
$79.00

Paralleling Pin

GPST22
$25.00

Lindemann Bur

LINDR-S21
$76.00

Lance Drill

LD150
$79.00

Trephine Bur

TPHB-B6
$76.00

Final Drill for 7.0mm Implant, short

DRILL6653S
$79.00

.048 Hex Driver short

SDS048
$55.00

.048 Hex Driver long

SDL048
$55.00

Angled Screw Driver (20Ncm max torque)

SDUGA
$55.00

Screw Removal Tool -

(use in reverse at 30 to 100rpm)

AFSR
$65.00
The Quattro Fully Guided Surgical kit includes the following: 17 drills, 4 implant drivers, 2 .048 screwdrivers, 3 fixation pins, 1 thumb knob. Handpiece implant drivers are not included.

Surgical Guides that are manufactured by 3rd party vendors with a Nobel Master Tubes can be used with the Fully Guided Keyless Kit. It will allow for implant placement via the guide up to and including a 5.0mm implant.
Click here for Guided Surgical sequence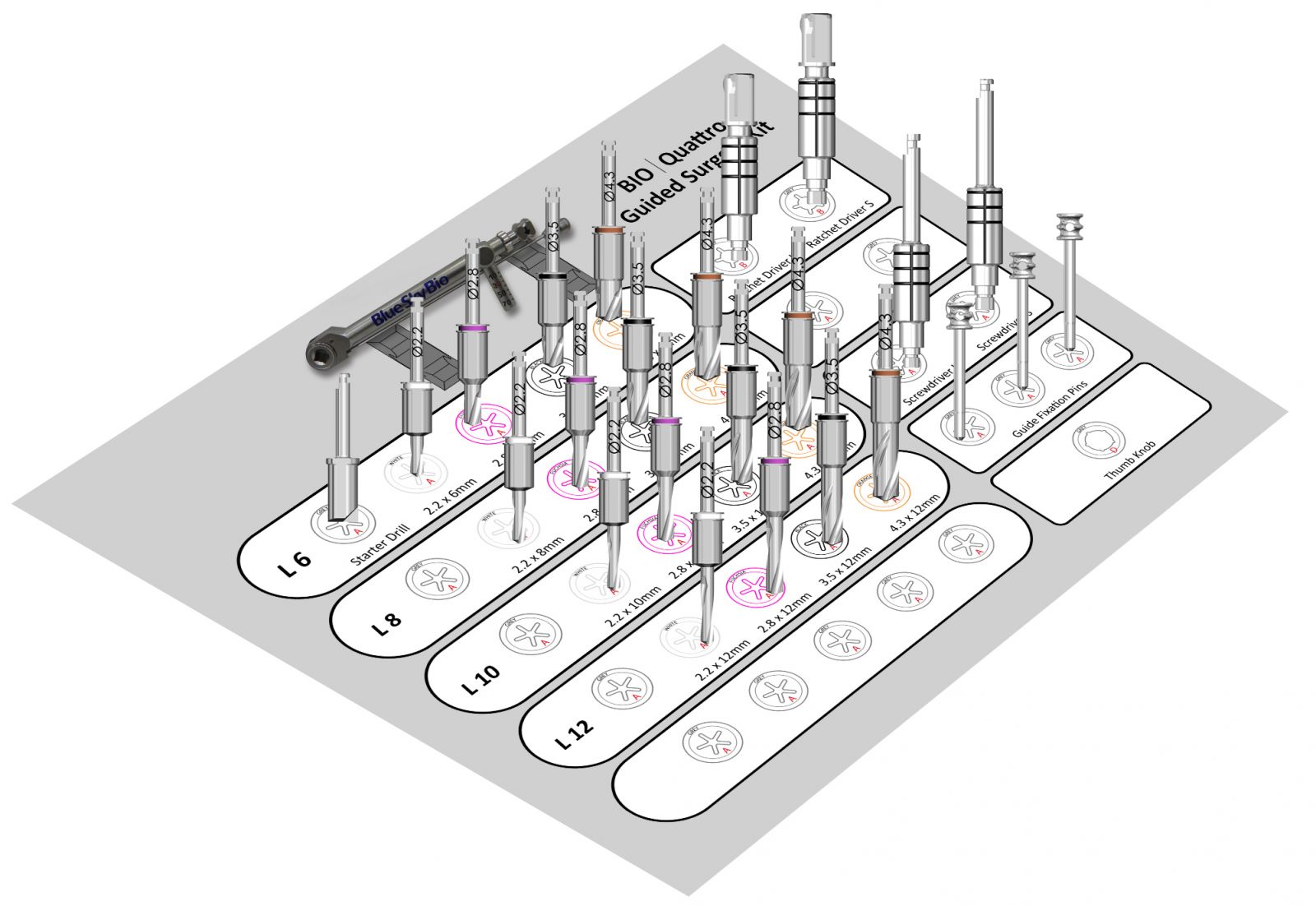 BIO | Quattro is not compatible with the Straumann® BLX Implant System with TorcFit™ connection.