---
BIO | TCP
Great Value
Important Product Information at Bottom of Page
BIO | TCP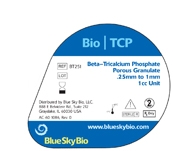 Size
Part #
Price
Qty.
1cc - .25mm to 1mm
BTCP251
$58.00
| | |
| --- | --- |
| | Low power hematoxylin and eosin stain photomicrograph (original magnification = 50X) of BIO | TCP (porous pure β-TCP) at 8wk in rabbit. The slide is showing apposition of osteoid matrix against the BIO | TCP granules. |
| | Medium power hematoxylin and eosin stain photomicrograph (original magnification = 50X) of BIO | TCP (porous pure β-TCP) at 8wk in rabbit. Osteoblasts surrounded by deposited osteoid is visible adjacent to BIO | TCP. |
| | High power hematoxylin and eosin stain photomicrograph (original magnification = 200X) of BIO | TCP (porous pure β-TCP) at 8wk in rabbit. The image is showing ostoid matrix with nuclei within lacune surrounding a BIO | TCP granule. |
Bio | TCP is a highly porous synthetic phase-pure formulation of ß-tricalcium phosphate (ß-TCP).
Bio | TCP is produced in the USA according to highest quality standards and is free from material of animal or human origin.
It posses highly interconnected micropores to enable in-growth of bone and is gradually resorbed as bone formation proceeds.
BIO | TCP granules are fully absorbed over a period of 6 to 18 months (depending on the size and the site of the defect) and replaced by vital host bone.