Important Product Information at Bottom of Page
Bovine Grafting Material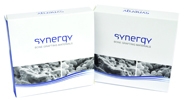 Size
Part #
Price
Qty.
Bovine Bone Cancellous, 0.5 grams, 840-2000 microns
SYN CE-2000
$79.00
Bovine Bone Cancellous, 0.5 grams, 350-840 microns
SYN CE-840
$79.00
Bovine Bone Cancellous, 2 grams, 840-2000 microns
HU2G-2000
$225.00
Bovine Bone Cancellous, 2 grams, 350-840 microns
HU2G-840
$225.00
SYNERGY is a porous bone mineral matrix. It is produced by removal of organic components from bovine
bone. Synergy provides a supportive structure for osteoconduction. The presence of pores in Synergy is
of great importance for repairing bone defects. It is available in cancellous (spongiosa) granules and block.
The anorganic bone matrix of SYNERGY has macro and microscopic structures that mimics human bone.
The formation and ingrowth of new bone at implantation site of SYNERGY is favored, due to its trabecular
architecture, interconnecting macro and micro pores. The use of SYNERGY may be considered
when autogenous bone is not indicated, or insufficient in quantity to fulfill the needs of the proposed
surgical procedure.
Review product brochure and Instructions for Use prior to use.
Click here to review the scientific publication regarding Synergy bone grafting material.